>
News
>
Advantages of Design Build for Mechanical Projects
Advantages of Design Build for Mechanical Projects
Posted on April 9th, 2018
Design-Bid-Build (DBB) has been the dominant form of project delivery for more than half a century, but recent studies show that Design-Build (DB) project delivery offers significant advantages over DBB for many types of projects. The popularity of Design-Build has grown over the past two decades such that it is now used to deliver roughly 50% of non-residential projects valued at more than $10 million. While used for projects of all sizes and types, Design-Build is especially well suited for HVAC, mechanical and electrical projects.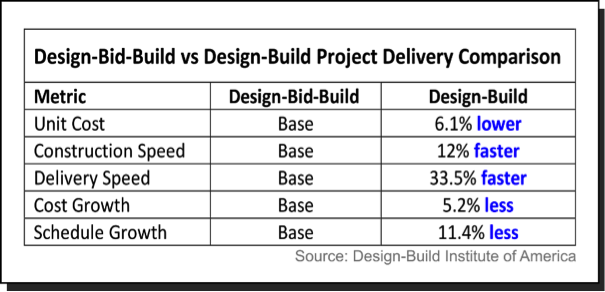 Design-Build Project Delivery
Compared to traditional Design-Bid-Build arrangements, Design-Build significantly simplifies project delivery by having a single entity responsible for both design and construction (the Design-Build entity or team) and thus a single point of responsibility for the Owner as shown in Figure 1. Some of the advantages of Design-Build delivery include: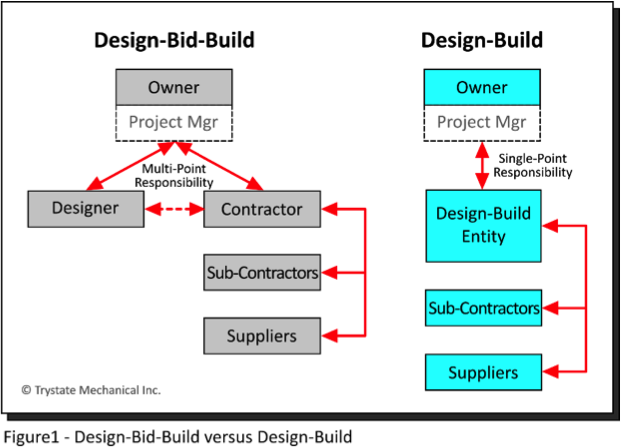 Designer and Contractor act as one working under the same contract thus eliminating the potential for adversarial relationships that can happen when they work independently,
Single-point responsibility substantially reducing the Owner's risk compared to splitting responsibilities and contracts between Designer and Contractor,
Value engineering, constructability and scheduling being optimized and continuously reviewed because of the integration of Designer and Contractor and their common goals,
Design-Build entity being responsible for all construction drawings and documentation,
Scope or drawing issues being the responsibility of the Design-Build entity,
Elimination of bid period required by DBB, enabling the ordering of long lead items and starting construction before design finalization, thereby shortening completion time,
Significant opportunities to reduce project schedule and costs and increase quality, and
The Owner needing less expertise and fewer resources to complete a project.
Design Build for Mechanical Projects
Design-Build can be used for projects of all sizes and types, however it is particularly well suited for projects for which the scope and expectations are well delineated and technical skills are readily available. Many types of mechanical projects such as replacing boilers and chillers, upgrading control systems, installing combined heat and power or thermal energy storage systems typically meet these criteria.
During the implementation of many mechanical projects, much of the design and installation planning focuses on site-specific details to accommodate the major hardware selected. The Design-Build process is ideal for this situation since it brings the Contractor's site expertise into the design process at its outset. Assessment of details such as space availability, accessibility, the location and adequacy of existing electrical, gas, water and sewer services, foundations, air inlet and exhaust options, etc. at the beginning of the project's design minimizes design errors, revisions and omissions.
Problems of Design-Bid-Build
Under the traditional Design-Bid-Build, the owner hires a Designer to complete detailed construction drawings and specifications for a project. Only after the design is complete does the owner take bids and hire a Contractor to produce the design. The separate contracts for the Designer and the Contractor give the owner complete control of all project details, however it also places the Owner squarely between the Designer and the Contractor to act as overseer and, potentially, referee (See Figure 1).
The disadvantages of Design-Bid-Build include:
Long project schedules due to fact that construction can't begin until the design has been finalized and a Contractor hired.
The Contractor not having design input on constructability, value engineering or scheduling since the design is completed before the Contractor is hired.
The potential for an adversarial relationship between Designer and Contractor (with the Owner in the middle) over responsibility for design inaccuracies or omissions.
Selecting a Design-Build Team
Rather than being based on low price alone as in the case of Design-Bid-Build, selection of a Design-Build entity focuses more on a combination of qualifications, team experience and expertise and price. Design-Build entities are frequently led by Contractors since they often have the most responsibility and financial exposure of all entity members and are more accustomed to putting corporate assets at risk. Some DB teams may have all the necessary capabilities in-house and others may include collaboration among Equans MEP companies. Such natural "teams" could make the Design-Build approach even more beneficial to the Owner.
Fewer bidders may respond to Design-Build projects compared to DBB jobs due to bidder inexperience, high bid costs and increased contractual complexity. Even with fewer bidders, Owners should be comforted knowing that those that do bid should be the most financially sound and technically qualified.
For more information about Design-Build delivery for your next project, contact Equans MEP.