>
News
>
MEP Prefabrication & Modularization
MEP Prefabrication & Modularization
Posted on October 2nd, 2020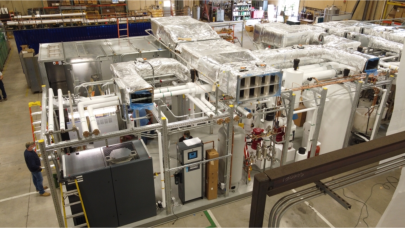 Prefabrication and modularization are terms frequently used in the construction industry to describe the extent to which structural pieces or sections of a building are assembled off-site. However, prefabrication and modularization are not yet such familiar terms in the MEP (mechanical, electrical and plumbing) industry. The following describes the differences between and the advantages of MEP prefabrication and modularization.
MEP Advances
A July 2020 article in the ENR (Engineering News-Record) about MEP prefabrication says, "There is growing recognition today that prefabrication represents an opportunity to transform the construction industry. By moving from onsite construction to industrialized construction, projects benefit from improved safety, productivity and predictability.", and "In actuality, one group of subcontractors is already leading the way in prefabrication, virtually behind the scenes: mechanical, electrical and plumbing (MEP) subcontractors, who have been scaling their prefabrication capabilities faster than most other stakeholders in the construction ecosystem."
The ENR article also goes on to discuss how the concept of Design for Manufacture and Assembly (DfMA) applies to the construction industry. While discussions about manufacture and assembly may seem more appropriate for the auto industry, many of the DfMA principals apply to MEP prefabrication and modularization when you consider them in the broader context:
Minimizing the number of parts – reduces labor time and costs while increasing overall quality and reliability,
Design for ease of fabrication and assembly – avoids the need for custom or complex parts and makes the interconnection of mating parts strong and foolproof
Minimize the use of flexible parts – rubber and plastic materials, belts, gaskets and similar items can increase assembly time and require more frequent replacement
Reduce or eliminate the need for adjustments – this reduces the possibility of "out-of-adjustment" possibilities and minimizes assembly and maintenance time
The basic goal of DfMA is same as for MEP prefabrication and modularization: the reduction or elimination of waste of all types and the increase in value of the final product.
MEP Prefabrication and Modularization
While MEP prefabrication and modularization aim to reduce waste and increase product value, each does so from a different perspective.
The purpose of MEP prefabrication is to conduct as many repetitive assembly-related activities as possible in the quality and safety-controlled conditions of a workshop rather than on-site. Consider, for example, the installation of ductwork, piping for steam, chilled water and different gases and conduit for electrical and communication wiring in a new pharmaceutical project. At a minimum, the traditional way of doing this on-site might involve different trades marshaling and storing many materials, numerous trips up and down lifts at the same points to install hangers and racks, measure, retrieve, field fabricate and attach different sections of material. The many up-and-down and back-and-forth movements of such an installation are wasted effort that can be minimized by shop prefabrication.
Utilizing Building Information Modeling (BIM), lengthy assemblies consisting of insulated and supported ductwork, piping and conduit can be shop fabricated. Compared to traditional on-site "stick-build" methods for piping and ductwork, shop fabrication is done at ground level with jigs and fixtures, materials readily at hand and in a well-lighted and controlled environment that significantly improves assembly speed and quality. Moreover, prefabricating assemblies as the building structure is erected helps to minimize project schedules, site storage space, material waste and the number of on-site personnel.
MEP modularization also serves to reduce waste and increase value; however, it focuses on optimizing unique applications as opposed to prefabrications' focus on minimizing repetitive activities. The typical goal of modularization is to assemble, interconnect, test and adjust complex mechanical, electrical and digital systems into a functionally operational package with minimal connection points. Modularization may also focus on space-saving, weatherproofing and/or transportability. Consider, for example, a collection of pharmaceutical process and control equipment which need to be relocated from time-to-time. Modularization makes it possible for the equipment to be permanently installed and interconnected on one or more trailerable platforms thus eliminating the potential damage and wasted time resulting from repeated disassembly and reassembly.
Using Prefabrication & Modularization
Before your next building or facility MEP project, consulting with an MEP contractor experienced in prefabrication and modularization may uncover valuable ideas to improve your schedule, bottom line or the project utility. Prefabrication and/or modularization options deliver the most value when considered during the project concept stage. Moreover, specifically prioritizing prefabrication and/or modularization during the contractor selection process helps to reveal better implementation ideas.
Trystate is an expert when it comes to managing the challenging requirements and confined spaces that prevail in metro New York. Prefabrication and modularization are frequently the solution utilized by Equans MEP Services to minimize project risk, schedules and disruption. As you plan your next facility project, talk to Trystate to see how prefabrication or modularization might improve the outcome.