>
News
>
The Future of MEP: Modularized & Lean
The Future of MEP: Modularized & Lean
Posted on September 13th, 2018
Today, an increasing number of buildings are being constructed in much the same way as nuclear aircraft carriers. Modularization and lean construction employed in the production of large, complex ships are being applied to building construction, especially for MEP (mechanical, electrical and plumbing). The following looks at these processes and how they reduce schedules, save money and increase quality in the building industry.
Design & Breakdown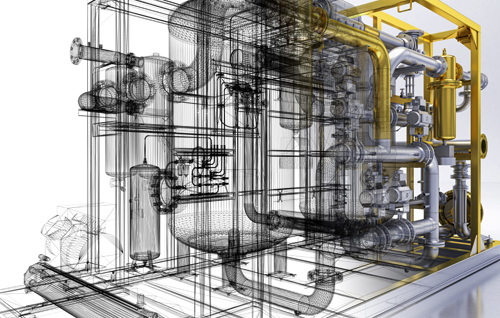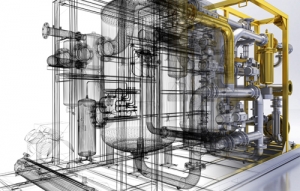 The current capabilities of computers, software and other digital technologies have driven a revolution in MEP modularization. Just as specialized software makes the design and construction of one-of-a-kind ships easier and faster, the Building Information Modeling or BIM process and software enable the complete three-dimensional design of a complete building with information and data about all materials, hardware and systems. BIM automates the design and collaboration process, minimizes rework and aids in development of virtual construction workflow. It also automatically detects interference or clashes of materials and delivers dimensional details, drawings and material take-offs (MTOs) usable for building.
When the design of an aircraft carrier is complete, it is then broken down into nearly 200 modules or so-called "superlifts". Each superlift contains multiple areas or compartments on different decks and weighs between 80 and 900 tons. Similarly, BIM is used to break down a building into elements that can be modularized such as cable trays, water, gas and process piping, ductwork and the racks to hold them. Complete bathrooms, mechanical and electrical rooms and various mechanical equipment can also be modularized.
Advantages of Modularization
Lower cost, shortened construction schedules and higher quality are the principal advantages of using MEP modularization for building construction. These are the same reasons for constructing superlifts in a fully outfitted fab shop and assembling them rather than "stick-building" an aircraft carrier from the ground up. Other advantages of MEP modularization compared to stick-building, include:
Lower Cost
Productivity in a fab shop is significantly higher
Modules usually require up to 30% less material
Ease of module installation requires less time and fewer workers
Inventory and storage of material in fab shop reduces waste and loss
Building duplicate modules further reduces costs
Shorter Schedules
MEP modules are fabricated in parallel with building erection
Module installation takes much less time
Coordinated module delivery minimizes site interference and wasted time
Shop testing of modules reduces need for site testing & startup time
Higher Quality
Shop-built modules are less likely to have defects in workmanship
Shop work promotes higher accuracy and consistency
Quality control is easier and more effective
Pipefitting, welding and fabrication are done under optimum conditions
Finished modules are stored in clean conditions off-site until needed
Lean Construction
The building of aircraft carriers is deeply infused with the concept of lean shipbuilding for the same reason the building construction industry focuses on "lean" practices: eliminating the waste of material, time and effort to increase value. MEP modularization eliminates or minimizes many of the types of waste targeted by lean construction:
Defects – Computer design and shop fabrication helps minimize defects.
Waiting – MEP modules are often ready for delivery to the site as soon as they can be installed.
Not Utilizing Talent – Modularization optimizes the use of shop and on-site talent.
Transport – No extra material is moved to the site and none is moved before it is needed.
Inventory – Modules are delivered to minimize the time they remain at the site before installation.
Motion – Shop fabrication eliminates wasted movement of people, tools and material.
Start Early
The maximum benefit of MEP modularization is achieved when the decision to modularize is made well before the completion of the building design. A Design-Assist arrangement with the MEP contractor might be the best way to handle modularization. During the design phase, under Design-Assist, the architect or engineer of record contracts with the MEP contractor to provide expertise and design assistance for modularization. In fact, the engineer may make the contractor responsible for the entire MEP design, fabrication and installation.
The MEP contractor selected should have extensive in-house BIM, design and project management capabilities, a fabrication facility sized and staffed to handle the workload on schedule and experienced installation specialists. When your project will benefit from MEP modularization or skid mounting of equipment, we'll be happy to help you with your planning. Equans MEP Services has all the requisite capabilities and experience to use MEP modularization and lean construction on your project.